DPCplus removes healthcare accessibility barriers with nationwide reach delivering consistent, affordable, high-quality primary care to keep employer expenses low, while diminishing the financial impact of high deductibles and expensive out-of-pocket costs
September 17, 2019 (Austin, TX) – Healthcare2U, a membership-based, integrated direct primary care (DPC) organization, today announced the nationwide availability of DPCplus, a new comprehensive suite of integrated primary care services for employers of all sizes and structures needing to keep expenses low and achieve better health outcomes for employees. DPCplus is not insurance, but rather a monthly healthcare membership consisting of a low flat fee and fixed visit fees for unlimited in-office physician visits and treatments for primary care, urgent care, chronic management, telehealth, and various discounts from generic prescriptions to lab work to fitness/gym memberships.

Healthcare2U is the first-to-market direct primary care organization delivering consistent care and pricing, with affordable access to high-quality primary care at a price point of 40% below the average cost of traditional DPC practices operating in the market today.
"Healthcare2U has aggregated multiple partners to bring integrated healthcare to its members through fixed costs and nationwide availability. With the addition of DPCplus, we're removing the geographical confines of traditional DPC to help benefit brokers better service employer groups by expanding their reach. Our integrated solution opens the door for everyone to have access to affordable, high-quality primary and urgent care no matter where they reside in the country," said Healthcare2U CEO and Co-founder, Andy Bonner. "DPCplus is a game-changer for the market that delivers integrated healthcare previously only available on the local or regional level—at a price they can afford."

DPCplus is a single solution built around a proprietary patient navigation platform coupled with a nationwide, Private Physician Network (PPN)™ that utilizes an integrated benefit model to 1) overcome affordability and restriction shortcomings of modern-day healthcare, and 2) to address long-standing accessibility barriers to managing preventative care, chronic conditions, and all health problems in a timely fashion before emergencies arise. DPCplus provides:
Affordability: No-claims membership coupled with aligned patient/physician incentives drive affordability—enabling employers to offer lower care costs, empower employee health and deliver better patient experiences.

Accessibility: Unlimited accessibility to network physicians during business hours, 24/7 access to telehealth specialists, and primary, chronic and urgent treatment from anywhere—reducing patient avoidance and giving peace of mind.

Transparency: Upfront fixed pricing and detailed supporting information gives the transparency to empower patients to make smart, budgeted healthcare decisions—preventing post-visit surprise charges or opaque payment responsibilities.

Mobility: Nationwide footprint drives primary care mobility to better service members regardless of location while transferring medical records between network physicians for every visit—eliminating care fragmentation and chances for misdiagnosis.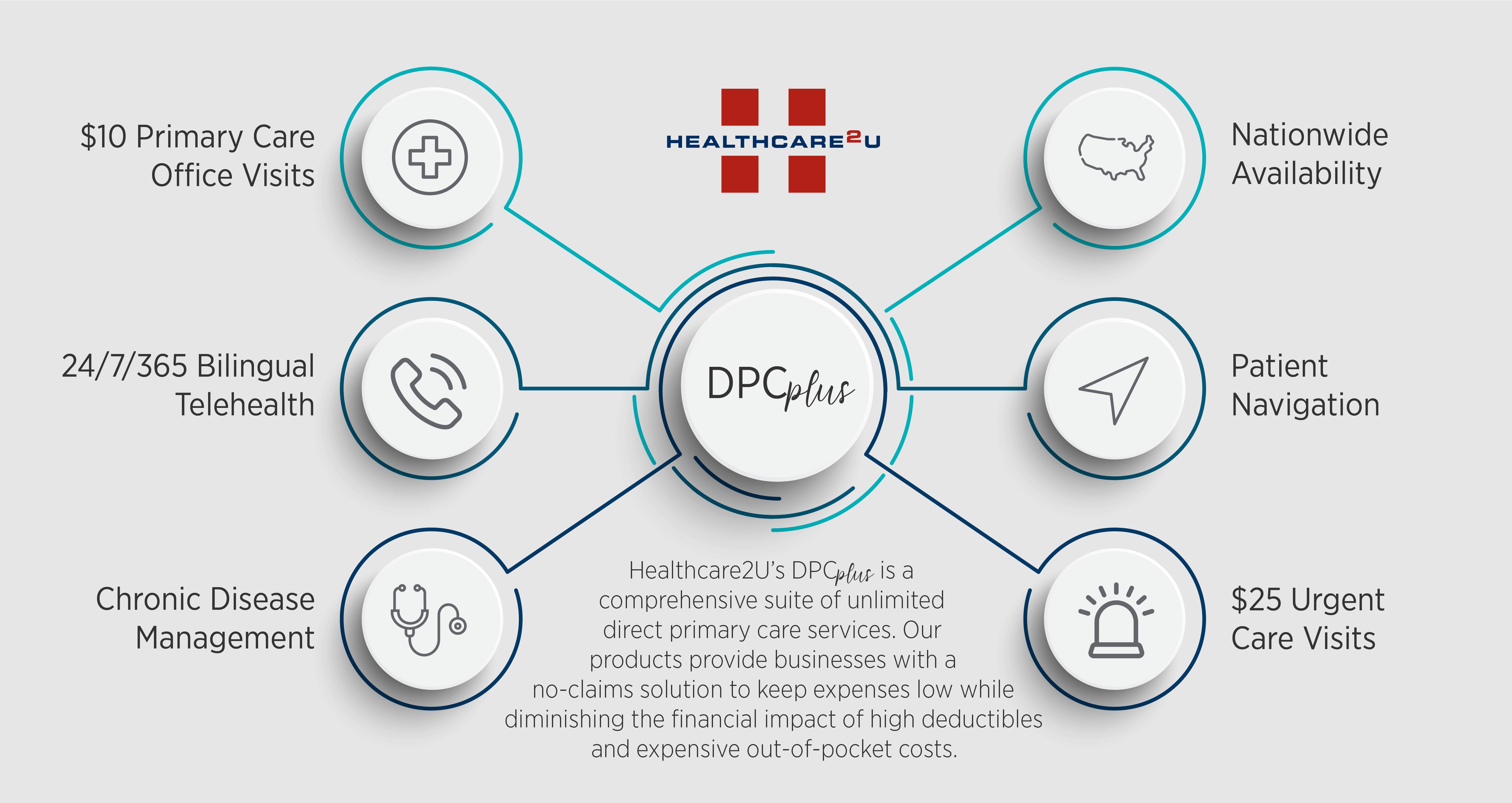 DPCplus provides unlimited, in-office appointments for acute care at $10 per visit and $25 for urgent care, and around-the-clock telehealth for no out-of-pocket cost. For the same $10 visit fee, members receive unlimited access to chronic disease management for 13 of the most prevalent diseases. Physicians within Healthcare2U partner clinics also practice generic-first protocols to reduce pharmaceutical costs for employers and employees.

"With costs for employee health benefits expected to rise in 2020, more individuals are having to purchase High Deductible Health Plans consisting of narrow networks that limit acute care accessibility and inflate out-of-pocket costs. With Healthcare2U's new integrated DPC solution, we can now offer an all-inclusive suite of primary care services with an extensive network of providers and urgent care facilities at a significantly lower price point," said Frank Crivello, president and CEO of SBMA, a third-party administrator based in San Diego. "Healthcare2U is leveling-up the playing field, and we anticipate a strong response from our clients knowing we can further support them whether they are remote, traveling or dispersed across the country."
Visit Healthcare2U to learn more about DPCplus and read our blog. Follow Healthcare2U on LinkedIn and Twitter @Healthc2U.

Tweet This: @Healthc2U Announces Nationwide Availability of New Direct Primary Care Suite Aimed to Bridge Affordability Gap

About Healthcare2U
Healthcare2U is a membership-based, integrated direct primary care (DPC) organization that ensures employers of all sizes and structures have nationwide access to affordable, consistent and quality primary care over 40% below the average cost of traditional DPC practices operating in the market today. Through our proprietary Private Physician Network (PPN)™, Healthcare2U promotes healthy living by detecting, treating, and managing acute and chronic conditions before the onset of serious illness. Healthcare2U is headquartered in Austin, Texas and is available nationwide. For more information, visit www.healthc2u.com.

###

©2019 Healthcare2U, LLC. All Rights Reserved. Healthcare2U and the Healthcare2U logo are trademarks of Healthcare2U, LLC in the United States and other jurisdictions. All other marks referenced are those of their respective owners.

Media Contact:
Dana Marruffo
Buzz Public Relations
512.825.9035
dana@buzzpublicrelations.net